MANIFEST 1.0

---

Playing off of themes of loneliness and the many layers of human connection we created a series of live performances that spanned the lines between concert and art installation, bringing both Sunni Colón and his audience into a deeper space of experiencing his music.

---
BRINGING IN THE AUDIENCE

The Manifest performance sought to bring Sunni and his audience together with more vulnerability than a standard live performance. To connect the audience to the show in a deeper way, we designed and developed an interactive ticket personally connected to each audience member.




A PERSONAL ENTRANCE

During ticket purchase each audience member was prompted to write a three sentence story about being alone. We used the power of AI to analyze the emotional tone of each person's story and create a unique ticket for each of them. With tickets programmed to the emotional identity of each audience member, the space responded to them personally with color, motion, and sound.




PROVIDING A MEMORY
No phones were allowed inside of the performance but providing a memory of the evening was important. To do this we used the sense that triggers memory the strongest; smell. We designed a custom scent that filled the space which was also given to audience members as they left performance.
DESIGNING THE SOUND


At the core of Manifest was the live music experience. With a team of award-winning audio engineers, sound designers, and experimental electronic artists, we developed a quadrophonic sound system that washed the room in a multi-layered, responsive soundscape.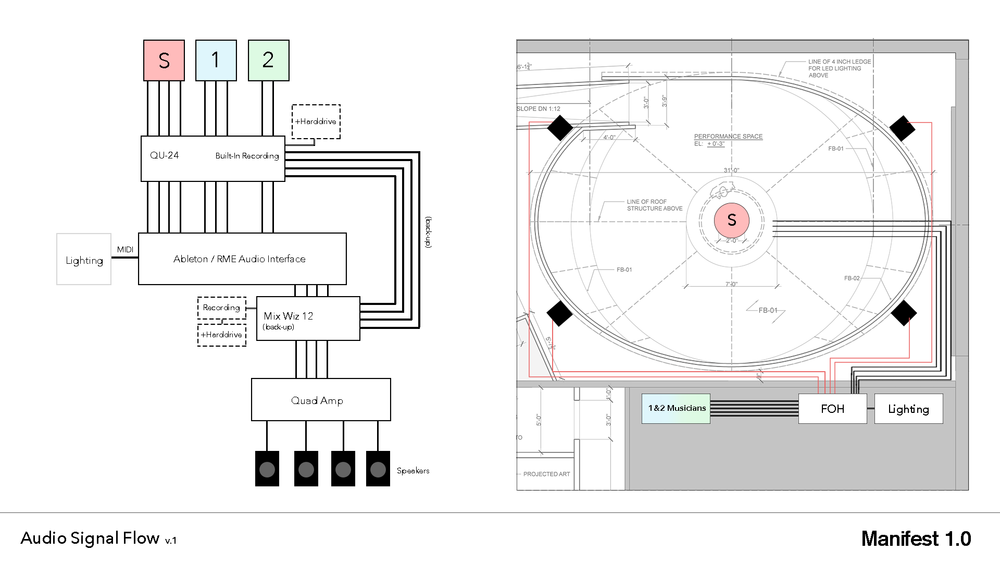 ---
PRESS

MANIFEST 1.0 IS CHANGING THE WAY WE EXPERIENCE MUSIC

-WGSN

MANIFEST 1.0: A NEW SONIC AND SENSORY IMMERSION EXPERIENCE

-Huffington Post

SUNNI COLÓN WANTS YOU TO TASTE, SMELL, AND FEEL SOUND

-Surface Magazine

A DEEPER LOOK INTO SUNNI COLON'S SENSUAL INSTALLATION, MANIFEST 1.0

-Flaunt Magazine

10 MUST-SEE ART SHOWS OPENING THIS WEEK

-Paper Magazine

GENRE-DEFYING SINGER SUNNI COLON EXPLAINS MANIFEST 1.0

-Essential Homme

The Shifting Landscape Of Revenue Streams For Musicians:

-Dave Allen

Music By Sunni Colon
Direction
Creative Director, Manifest 1.0: Melisa Dougherty
Art Director, The Family: Yo-Yo Lin
Creative Director, The Family: Steve Dabal
Executive Producer, Manifest: Jordan Caldwell
Environment
Architect: Jules Molloy

Lighting Designer: Dominick Chang

Build Manager: Robert Morris

Lead Carpenter: Jay Miller

Lighting Consultant: Jordan Frand

Interactive
Interactive Design & Art Director: Skylar Jessen

Movement Consultant: Tara O'Con

Creative Technologist: Wipawe Sirikolkarn

Electrical Consultant: Aaron Parsekian
Sound
Musician + Engineer: Dillon Pace

Audio Supervisor: Joanna Fang

Audio Designer + Technician: David Britton

Audio Designer + Integration Specialist: Michael Matchen

Audiovisual Coordinator: Chris Robinson

Content
Graphic / Web Designer: John Provencher

EPK Director of Photography: Griffin Yu

EPK B-Camera Operator: Filippo Nesci

EPK Additional Videography: Zack Filkoff

VR Specialist: Jesse Sperling




LEARN MORE ABOUT THE FAMILY HERE